Active Assisted Stretching: Easy-to-Master Streamlined Protocols for the Entire Body DVD Training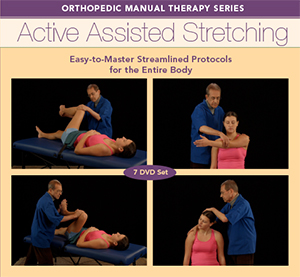 Dr. Ben Benjamin has developed an easy-to-learn, streamlined Active Assisted Stretching protocol which can be quickly mastered. The program covers stretches for the entire body including the neck, shoulders, arms, wrists, hands, fingers, hips, back, legs, ankles, feet, and toes, which can be performed in just under an hour. They will also learn the physiological principles of successful and unsuccessful stretching. This material will enable the practitioner to have a more robust and specific protocol for helping clients to increase their functional flexibility.
Click HERE for the 4-minute video preview.
Click HERE for the free 1-hour, 1 CEU introductory course.
DVD 1 - AAS Theory & Upper Body Part 1: Shoulder
DVD 2 - AAS Upper Body Part 2: Shoulder & Neck
DVD 3 - AAS Upper Body Part 3: Elbow, Wrist & Hand
DVD 4 - AAS Lower Body Part 1: Hips & Legs
DVD 5 - AAS Lower Body Part 2: Legs & Low Back
DVD 6 - AAS Lower Body Part 3: Foot & Ankle
DVD 7 - Complete 1-Hour Upper & Lower Body Active Assisted Stretching Session
Purchase includes a PDF program manual and NCBTMB-Approved Exam for 14 CE Hours.
Also available separately as a Premium Streaming online title.
Cost: $395
---
Quantity: