Growing a Prenatal MT Practice with Carole Osborne
Instructor: Carole Osborne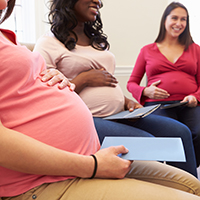 What should you expect when working with expecting women? How can you create a 'belly-friendly' MT practice? What does it take to develop into a prenatal massage therapist? Of course specialized knowledge and therapeutic skill are fundamental to success, but you also must meet the practical and business realities of this special population. That's the focus of this course series. In it you will learn:

• What each gestational trimester brings and how to best enhance women's comfort and well-being as the pregnancy progresses
• Practical use of equipment, space, positioning, and body mechanics to maximize session effectiveness
• Intake, session records, and client communications that improve your prenatal services and increase your income too
• A safe, simple and relaxing side-lying prenatal session
• Ways to engage with other prenatal healthcare providers that will build collaboration and respect
• Tried-and-true marketing activities that grow a maternity-focused career

Course presenter, Carole Osborne, shares wisdom from over 30 years of maternity massage therapy specialization, and from the most successful of thousands of maternity MTs who she has trained during these decades.

Special note: This course series is a practical companion to Carole's other series, Pregnancy Massage 101. That series covers critical physiological, precautionary, safety and efficacy foundations for prenatal MT. Although each series stands alone, it is highly recommended that therapists also at least take Pregnancy Massage 101 (or have equivalent basic training) before working with any pregnant women. Neither course series confers certification or adequately prepares therapists for working with complex, medically complicated pregnancies. Additional, comprehensive hands-on training is highly recommended if those are your educational goals.
---
Free course previews are only available for individual courses. Please choose a course below:
Access all site content starting at $29
Subscribe
---
Continuing Education Hours
Trimester Developments and Women's Prenatal Needs: 1
Creating Nurturing Spaces for Moms and Babies: 1
Prenatal Massage Therapy Practicalities: 1
Relaxing Prenatal Massage Sessions: 1
Interacting Within the Perinatal Healthcare System: 1
Marketing a Mommies R Us MT Practice: 1
------------
TOTAL: 6 CE hours