Instructor: Ben Benjamin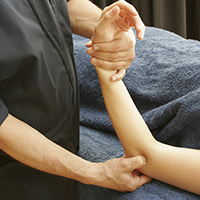 In addition to golfer's elbow and tennis elbow, there are eight other common elbow and forearm injuries that can cause pain in more than a dozen different locations in the arm.

These often overlooked conditions include injuries to the flexor and extensor carpi ulnaris, pronator teres, supinator, and distal attachments of the triceps and biceps, as well as bursitis and traumatic arthritis.

You'll gain the ability to assess all of these injuries, to treat those that respond well to manual therapy, and to refer the other types of client cases to an appropriate practitioner. Because this course covers such a wide range of injuries, the supplementary instructional videos include more than 25 clips detailing assessment tests, massage and myofascial treatment techniques, and exercise rehabilitation programs.
Series: Unraveling the Mystery of Elbow Pain
---
Free course previews are only available for individual courses. Please choose a course below:
Access all site content starting at $29
Subscribe
---
Continuing Education Hours
Golfer's Elbow: 1
Tennis Elbow: 1
Other Culprits in Elbow Dysfunction: 1
------------
TOTAL: 3 CE hours