Functional Fitness and Massage Therapy
Instructor: Ben Benjamin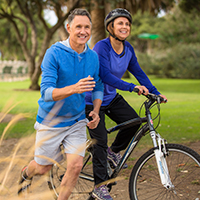 Functional Fitness may be among the latest buzzwords in the fitness world today, and for good reason. It is defined as the ability to perform normal daily activities, around the house or at work, without undue fatigue or injury.

This course is as important for YOU the person as it is for YOU the practitioner. It is no secret that the average massage career is only seven years, often due to burnout or injury. If you ever feel tired after routine tasks or pain after working with clients, you cannot miss this amazing series! Functional fitness asks that we look at our own body mechanics to practice safer and healthier motions, and gives us the tools to instruct our clients to do the same.

Have you ever encountered a client that was a rock star in the gym but threw their back out carrying a suitcase down the stairs? For all practitioners wanting to prevent injury, whether you work with elite athletes looking to improve their performance in a particular sport or a grandmother seeking to gain strength to pick up her grandkids, we think functional fitness is something that can help build your practice and prolong your career.
---
Free course previews are only available for individual courses. Please choose a course below:
Access all site content starting at $29
Subscribe
---
Continuing Education Hours
Fascial Fitness with Tom Myers: 1
From the Table to the Gym: Functional Exercise Progressions for Massage Therapy Clients with Tony Ambler-Wright and Rick Richey: 1
Myths & Realities of Prevention and Self-Care with Lauriann Green and Richard W. Goggins: 1
Reducing Golf Injuries with Golf-Flexogy with Ralph Stephens: 1
Aston Kinetics: The Structure & Function of the Body Are Asymmetrical with Judith Aston: 1
Injury & Pain Rehabilitation with Dr. Ben Benjamin: 1
------------
TOTAL: 6 CE hours