Instructor: Ben Benjamin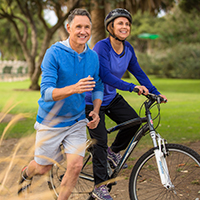 Golf is not a contact sport, yet the majority of golfers sustain a golf-related injury from playing the game. The golf swing puts severe stress on the body, and soft tissue injuries are common. For this reason, golf and massage are a great combination. If you would like to join in on this win-win situation and help golfers, this course is for you.

You will learn:
• How intensely the golf swing stresses the body
• The number one cause of golf injuries
• How to treat these injuries with massage and stretching
• The anatomy of golf-related injuries
• How to prevent golf-related injuries and improve the golfer's ability to swing the club

Join Ralph Stephens as he presents this information-packed course that can open up opportunities for your practice and help you reach and serve a market that needs your services and can afford them.
Series: Functional Fitness and Massage Therapy
---
Free course previews are only available for individual courses. Please choose a course below:
Access all site content starting at $29
Subscribe
---
Continuing Education Hours
Fascial Fitness with Tom Myers: 1
From the Table to the Gym: Functional Exercise Progressions for Massage Therapy Clients with Tony Ambler-Wright and Rick Richey: 1
Myths & Realities of Prevention and Self-Care with Lauriann Green and Richard W. Goggins: 1
Reducing Golf Injuries with Golf-Flexogy with Ralph Stephens: 1
Aston Kinetics: The Structure & Function of the Body Are Asymmetrical with Judith Aston: 1
Injury & Pain Rehabilitation with Dr. Ben Benjamin: 1
------------
TOTAL: 6 CE hours