Instructor: Ben Benjamin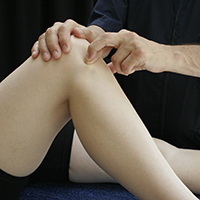 Injuries to the patella tendon mechanism are among the most common and easy to treat. There are seven different injuries that can afflict this structure. Injury can occur in the tendon body, the upper or lower tenoperiosteal junction, the medial or lateral quadriceps expansions or the two retinacula. Understanding these seven injuries is the first step in a successful treatment process.

In this seven-part course series, Dr. Ben Benjamin discusses the 23 knee injuries that you are most likely to encounter. You?ll come away understanding the relevant anatomy and assessment for each of these conditions, as well as therapeutic techniques for those you can treat and referral guidelines for those you cannot. Toward the end of the presentation, Dr. Benjamin answers questions submitted live by course participants.
Series: Unraveling the Mystery of Knee Pain
---
Free course previews are only available for individual courses. Please choose a course below:
Access all site content starting at $29
Subscribe
---
Continuing Education Hours
Medial Collateral Ligament Sprains: 1.5
Client History & 23 Injuries Common to the Knee: 1.5
Lateral Collateral Ligament Sprains: 1.5
Medial and Lateral Coronary Ligament Sprains: 1.5
Patella Tendon Mechanism Injuries: 1.5
Other Culprits in Knee Dysfunction: 1.5
Clinical Applications for Knee Pain: 1
------------
TOTAL: 10 CE hours